The Commens Dictionary

Quote from 'Logical Tracts. No. 2. On Existential Graphs, Euler's Diagrams, and Logical Algebra'
Quote:
The logical universe is that object with which the utterer and the interpreter of any proposition must be well-aquainted and mutually understand each other to be well acquainted, and must understand that all their discourse refers to it.
Manuscript Image: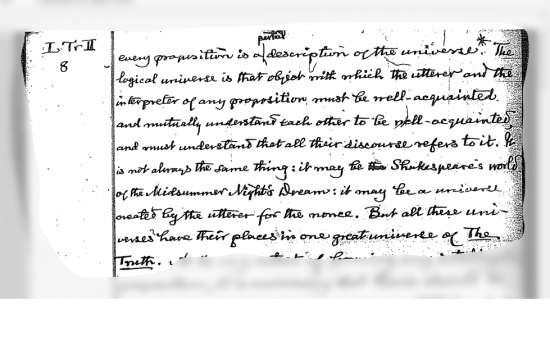 Citation:
'Logical Universe' (pub. 07.04.13-18:46). Quote in M. Bergman & S. Paavola (Eds.),
The Commens Dictionary: Peirce's Terms in His Own Words. New Edition
. Retrieved from
http://www.commens.org/dictionary/entry/quote-logical-tracts-no-2-existential-graphs-eulers-diagrams-and-logical-algebra-3
.